Financial Services Client Onboarding Solutions
For financial services, client onboarding is the first and one of the most important points of contact with clients. The customer experience you deliver in onboarding sets the tone for all future client interactions and is a major make-it-or-break-it moment in your client relationships.
The quality of your client onboarding is important for other reasons, too. Onboarding is where you acquire the data you need to meet legal and regulatory requirements such as those associated with KYC/AML compliance. It is also where you get the information you need in order to build accurate risk profiles that help with risk assessment and management. Further, the data collected during client onboarding is useful for scaling future growth with your client because it gives you a clearer picture of your client's financial and investment needs.
Because there is so much riding on the success of the onboarding process, it's essential to find financial services client onboarding solutions that streamline, automate, and optimize the process.
Financial Services Client Onboarding Challenges
There are several factors that can make onboarding difficult, most of which relate in some way to document processing.
High Volumes of Unstructured Documents
Client onboarding is a document-intensive process. In a typical onboarding scenario, there may be documents such as:
Proof of identity
Proof of address
Certificates of incorporation
Proof of ownership
Employment letters
Company returns
Board resolutions
This list is by no means exhaustive and, for corporate entities, the list is much longer. But it's not just the volume of documents that makes onboarding problematic. It's also the variability of those documents.
Many of the documents contain unstructured data, which means they are not arranged according to a preset schema or format. For financial services organizations that do not use intelligent document processing technology, unstructured documents can cause serious process bottlenecks because they require manual review.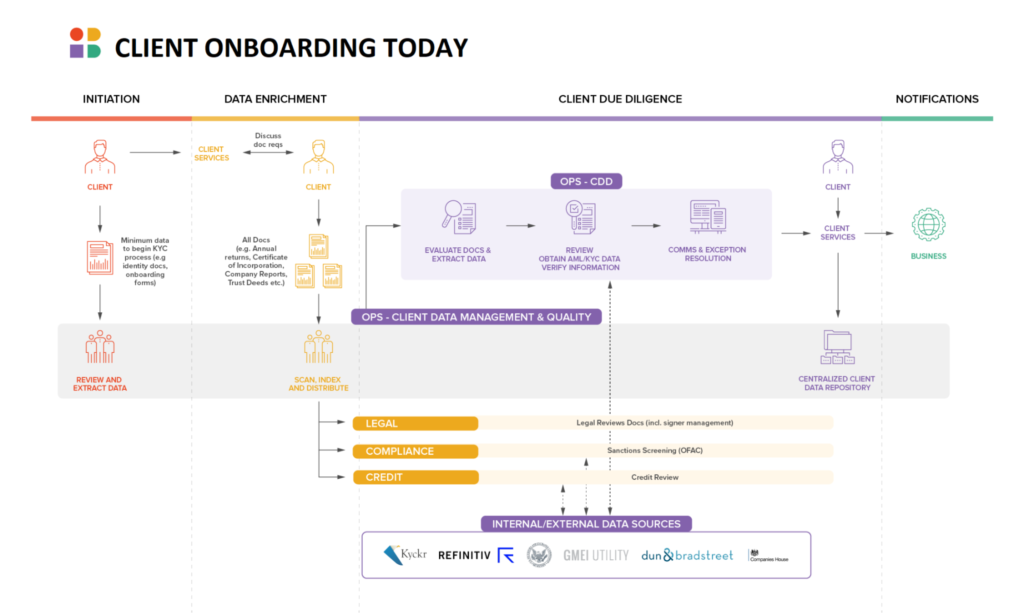 Manual document review is a time-consuming, painstaking process that typically involves several employees and multiple hours. With normal onboarding volumes, that is problematic, but in periods of increased onboarding activity, manual document review can bring the process to a slow crawl.
That often leads to a poor client onboarding experience, which sets a poor tone for future client interactions. Manual document review is an inefficient, costly process that is not a scalable onboarding solution.
Adoption of Multiple Point Solutions
To solve this challenge, many financial services companies have tried a variety of point solutions that address particular types of documents. For instance, companies might invest in a solution to automate proof of identification documents such as driver's licenses or state-issued ID cards. But those document-specific solutions only solve one document challenge.
What about adding more point solutions as you go? The more point solutions organizations adopt, the more complicated the workflows become. Instead of streamlining and simplifying, adopting multiple-point solutions makes things more convoluted.
KYC/AML Challenges
KYC/AML regulations require considerable documentation for financial services organizations. However, KYC/AML compliance requires more than just review of documents at onboarding. Rather, it is a continuous process that financial services organizations must do to ensure compliance for every transaction throughout the customer lifecycle. To perform KYC/AML verifications consistently and efficiently, automation is the best course.
How to Really Automate Client Onboarding
For less complicated financial relationships such as opening a deposit account, much of the front-end part of onboarding has already been automated. Many financial institutions offer clients the ability to submit required documents through a client-facing portal. Other documents may be sent via email or fax. From the client's perspective, this appears to be automated.
But it really isn't. If there is no automated document understanding solution in place, middle office, and back office processes are still bogged down by manual document review. To truly automate client onboarding from end to end, you need an intelligent automation platform capable of ingesting unstructured documents and formatting them into structured data accessible for downstream processes.
How Instabase Helps
The Instabase Platform provides a revolutionary approach to document automation. Instabase leverages deep learning technology and natural language processing, combined with low-code building blocks to help financial services organizations ingest, classify, split, enrich, validate, and push out relevant data to downstream systems in a structured format.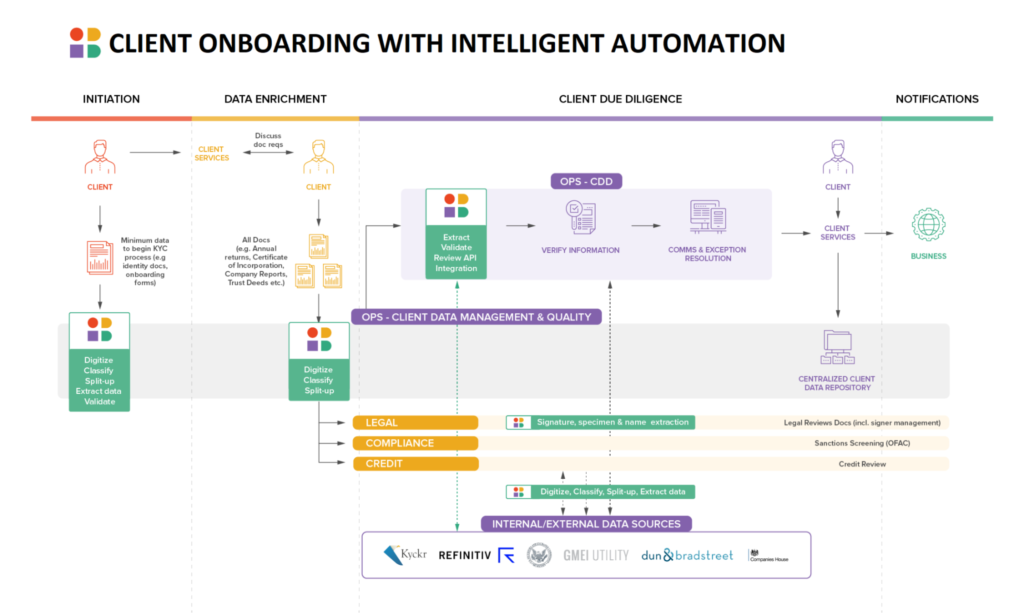 (Take a look at this case study to learn more about how Instabase helped one payroll company save 1,000 hours per month and get a 240% internal rate of return.)
With Instabase, financial services organizations can:
Eliminate or greatly reduce most of the costly, tedious manual review of unstructured documents.
Extract relevant data from unstructured documents with a high degree of accuracy.
Speed the delivery of excellent customer experiences by eliminating process bottlenecks.
Scale quickly, adding capacity for more business without adding associated employee costs.
Learn more about intelligent document automation for financial services in The Big Book of FSI Use Cases and our financial services solution page.