Intelligent Document Processing for Insurance
Insurance companies today are focusing their sights on:
Accomplishing these goals is no easy feat, in large part because insurance is a document-heavy industry. Especially for more complex risks, all major insurance processes involve the ingestion and understanding of volumes of documents— all of which are coming in from different sources in highly variable formats and types.
Manual processing of all these documents is time-consuming and labor-intensive, difficult to scale, and often contributes to a poor customer experience.

Intelligent document processing can conquer the challenges presented by unstructured data in multiple types of documents and help insurers streamline workflows across all major processes.
What Is Intelligent Document Processing?
Intelligent document processing uses a form of machine learning known as deep learning and natural language processing (NLP) to understand and process the data found in unstructured documents. It greatly reduces or even eliminates manual review of documents by automating document understanding.
Here's a look at how intelligent document processing can help with:
Underwriting
Policy Management
Claims Processing
Intelligent Document Processing for Underwriting
Historically, underwriters have been saddled with the task of wading through a sea of unstructured documents, manually reviewing each one, extracting the necessary information from it, and transcribing it for use in their own analysis as well as further downstream systems.
Just a few of the many documents underwriters must handle include:
Loss run data
Proof of income
Medical records
Submissions forms
Tax returns
Invoices & estimates
Proof of identity
Payroll data
Policy documents
Marriage & death certificates
Proof of address
Annual reports
Manual document processing has consumed some of the most expensive time in insurance. Underwriters are highly trained professionals, highly compensated for their shrewd analysis of risks in policy writing. Forcing these skilled professionals to spend much of their time on manual data entry instead of practicing the art of underwriting is a poor use of resources.
Automating with an intelligent document processing solution provides insurers with a way to optimize their resources and free underwriters to focus on the customer and actual risk assessment rather than data entry.
Intelligent Document Processing for Policy Management
Underwriting is not the only process that can benefit from automation. Policy management is also a document-heavy process.
Insurance policies are living documents, meaning that they can change over time. For example, perhaps an insurer adds a rider to a policy or a policy-holder requests that the insurer adds a new person to the policy or changes the policy amount. Any changes to a policy would fall under the process of policy management.
Managing insurance policies includes such tasks as:
Quote creation
Policy cancellations
Preparation of loss run reports
Policy issuance
Policy renewals
Compliance checking
Policy updates
Policy binders
Customer service correspondence
Each of these tasks involves multiple documents, most of which are unstructured. Intelligent document processing can speed up workflows, freeing insurance personnel to work on higher-value activities.
This, in turn, contributes to a better customer experience, as insurance providers can devote more time to customer-centric work.
Intelligent Document Processing for Claims
Claims management is a huge undertaking for insurers. The sheer volume of documents included in claims processing is staggering. For example, consider the claims process for a bodily injury claim during a car accident.
Common documents the insurer will need to process an auto claim include:
Accident report
Telematics device data
Proof of insurance for all involved drivers
First responder report
Identification forms
Medical records
Litigation documents
Drivers licenses
Medical bills
Other types of claims such as healthcare claims or commercial policy claims can be even more complex and document-intensive.
Intelligent document processing streamlines the ingestion and understanding of critical documents in the larger claims process. It reduces the cost of manual processing and speeds up the payment of claims, enhancing the policy-holder experience at the same time.
Leverage the Instabase Platform for Intelligent Document Processing
The Instabase Platform provides a revolutionary approach to document processing. Instabase leverages deep learning technology and natural language processing, combined with low-code building blocks to help insurance organizations ingest, classify, split, enrich, validate, and push out relevant data to downstream systems in a structured format.
The Instabase Platform enables insurance companies to scale quickly, adding capacity for more business without adding the typically associated employee costs.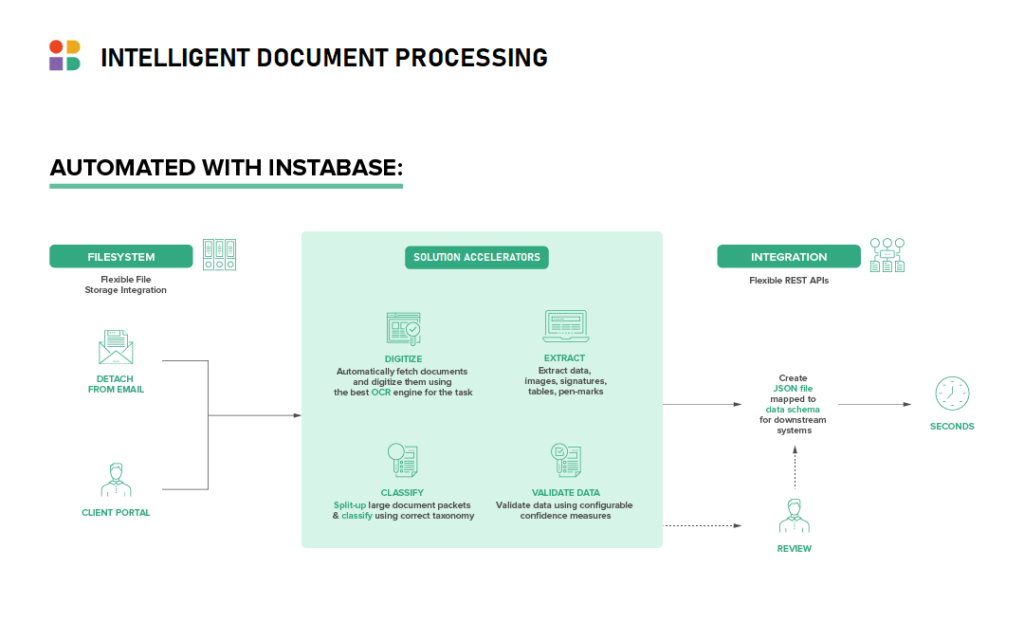 With Instabase, insurance organizations can:
Eliminate most of the costly, tedious manual review of unstructured documents
Free underwriters and other insurance professionals to perform more value-added tasks
Speed the delivery of excellent customer experiences by eliminating process bottlenecks
Learn more about intelligent document processing for insurance in The Big Book of FSI Use Cases and be sure to check out our insurance solution page.