Content
Instabase Simplifies the Submission and Underwriting Process
Improves Broker and Customer Experience with Greater Accuracy
The insurance submission and underwriting process is complex, regardless of whether the insurance involved is a personal or commercial lines product. Commercial lines, in particular, often involve more paperwork, more manual review, and more time to process than personal lines.
"Commercial insurance is a much broader field," Bastiaan de Goei, Insurtech leader at Instabase, said. "There are multiple, different commercial insurance policies ranging from liability to commercial auto to property to workers' comp. While they all follow broadly the same process, they require different sets of documents for underwriting."
The long list of documents can include:
Applications, some of which are still paper-based and must be processed through a mailroom
Emails with attachments
Supporting documents for quotes such as corporate tax returns, identification verification forms, etc.
Loss runs and supporting documents
And the list goes on. Each of these documents must be scanned, sorted, categorized, and routed appropriately. More importantly, each document must be understood, meaning that the relevant data contained in the document must be extracted accurately and populated into the right systems for use.It is, admittedly, a complicated process.
But there is a way to make it simpler.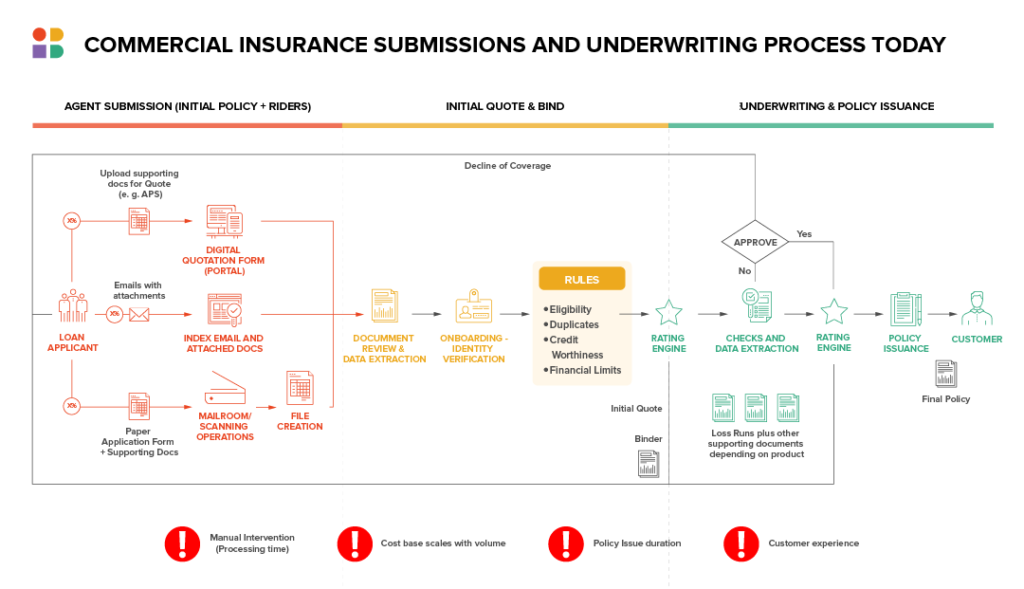 Instabase Simplifies the Submission and Underwriting Process
Enter the Instabase Automation Platform for Unstructured Data, which is capable of significantly easing the application-approval process for commercial insurance carriers. Using intelligent automation, Instabase splits and classifies each application packet. It uses a combination of rules and deep learning algorithms to understand the documents submitted and determine applicant eligibility, credit-worthiness, and financial limits so the near-final packet can make its way toward the end of the process far more quickly.
In the sections that follow, we discuss the top four ways a commercial insurance carrier can dramatically revamp its submissions and underwriting process by using Instabase.
Cuts Operational Expenses
"The problem with the submissions and underwriting process is, there is a lot of human intervention involved" without Instabase, de Goei said. The reason? It's the high variability and complexity of the documents submitted in commercial-lines insurance. These might include anything from payroll forms and alarm certificates to truck-fleet details and several years worth of audited financial statements. Because they're often unstructured, the documents are difficult to process without a lot of personnel involvement.
Instabase is able to eliminate much of the human work in the process because it is able to interpret the information in the unstructured documents. For example, Instabase is capable of understanding loss runs, which are effectively the claims history of a policy holder and can include a mix of tables and free text. Instabase easily comprehends all of this–without constant employee checks.
Owing in large part to its ability to reduce the amount of manual review needed for underwriting, Instabase can cut operational expenses for insurers. That's an increasingly crucial factor for commercial insurance companies.
"Insurance as an industry is currently under quite significant cost pressures," de Goei said. "The interest rates are very, very low at the moment. They're close to zero, and investment return has actually halved for insurance companies, which in turn means expense reduction is a very important objective for many insurance operations."
Freeing highly trained and expensive underwriters from repetitive, manual processes saves insurers significant money in terms of operational expenses, but that's just one way Instabase can improve the bottom line for insurers. With the intelligent automation provided by the Instabase Automation Platform, underwriters can devote more time on edge cases and complex cases and maintain high underwriting quality.
Grow Underwriting Volumes without Scaling Expenses
When insurers rely mainly on manual review in underwriting workflows, they often run into significant problems when trying to scale their operations. Insurers that rely on manual workflows have two choices:
They can increase their underwriting volumes by increasing their staff size (and its associated expense).
They can choose to increase underwriting volumes without increasing staff size, thereby sacrificing underwriting quality. This choice, unfortunately, ultimately leads to higher claims in the future.
For an insurer that wants to remain competitive and even to grow, neither of those choices is appealing. It's clear that another option is needed. That option is intelligent automation.
With Instabase automating large parts of the process, insurance companies can reduce their document processing times by 85% and actually increase underwriting quality by reducing the incidence of human errors and omissions. That, in turn, enables insurers to process more applications with the same (or even fewer) team members. In that way, insurers can scale up their underwriting volumes while keeping their operational expenses flat.
Speeds Up Policy Issuance
Insurance carriers depend on brokers for much of their business, and they typically work under very specific service level agreements (SLAs), which outline the accepted time frame for returning a quote to the broker.
As previously mentioned, by automating much of the submissions and underwriting process, insurers can cut their document processing times by as much as 85%. With Instabase, what once took days or weeks can now be done in hours or days.
Faster processing times mean that insurance carriers are more likely to provide quotes to brokers on time. Always meeting those deadlines helps insurance carriers build stronger broker relationships, which, in turn, encourages brokers to allocate higher quality business to the insurance carrier. This gives insurers a real competitive edge in a crowded marketplace.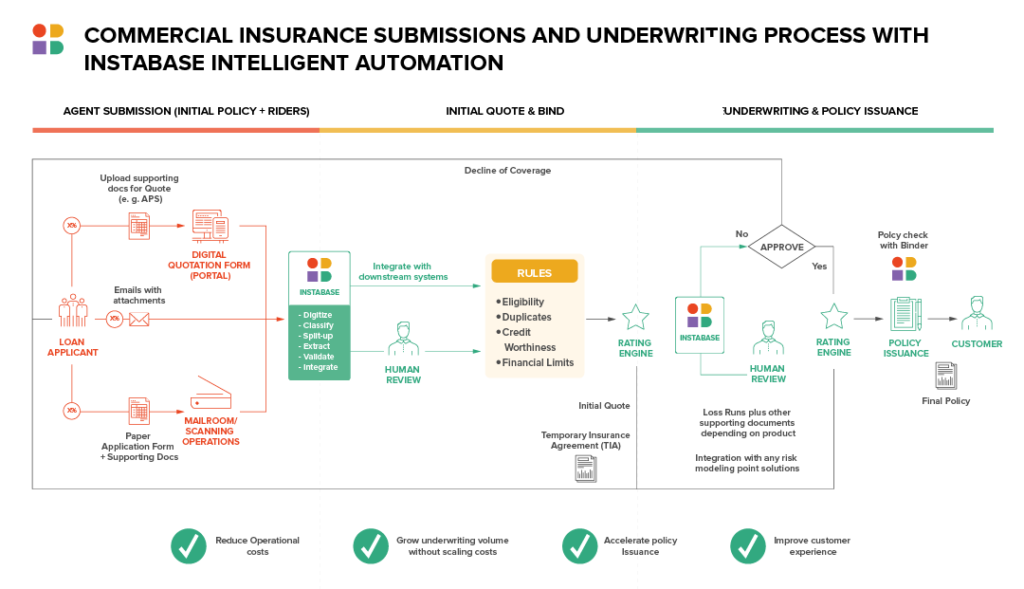 Improves Broker and Customer Experience with Greater Accuracy
By automating key points along the journey to approval, Instabase decreases the previously ample room for human error. Steps it automates include the time-consuming policy check with the binder and the painstaking extraction of loss-run schedules included in packages for underwriting processes.
By providing both speed and accuracy, Instabase improves the broker and customer experience greatly. In turn, happier brokers and commercial customers lead to stronger broker relationships, higher customer retention rates, more referral business, and greater revenue opportunities for insurers.
Get a demo to see how Instabase can provide your commercial insurance organization with workflows without the wait.
Workflows without the wait.
Instabase building blocks let you create powerful workflows in record time.