Content
Core Front-End Broker Challenges
Deep Learning: The Solution to Front-end Document Understanding and Automation
The Instabase Advantage
Brokers play an important intermediary role in the insurance industry, connecting insurance providers to potential clients. Many of the back-end processes of data and information-sharing  between broker and carrier are automated. However, brokers often struggle to automate their front-end operations, which involve the sharing of data and information between potential insurance clients and brokers. The lack of front-end automation impacts broker relationships with clients and makes it challenging for brokers to profit in a sector with thin margins.
The following use case illustrates key challenges for brokers without front-end automation, along with implications of implementing an optimal automated solution.
Core Front-End Broker Challenges
Many broker/client interactions take the form of emails with attachments filled with highly variable, unstructured documents. That makes it difficult to extract critical data such as the nature of the client inquiry, contact information, client policy numbers, and policy types.
Many brokers have to resort to manually extracting this data and putting it into a format that can be submitted to each carrier's system. It's a time-consuming, tedious process, but automating it has historically been too difficult because each carrier's system is different, and each document submitted to the broker is different.
The inability to automate front-end processes like data extraction creates significant cost burdens for insurance brokers and impacts their ability to optimize client and carrier relationships.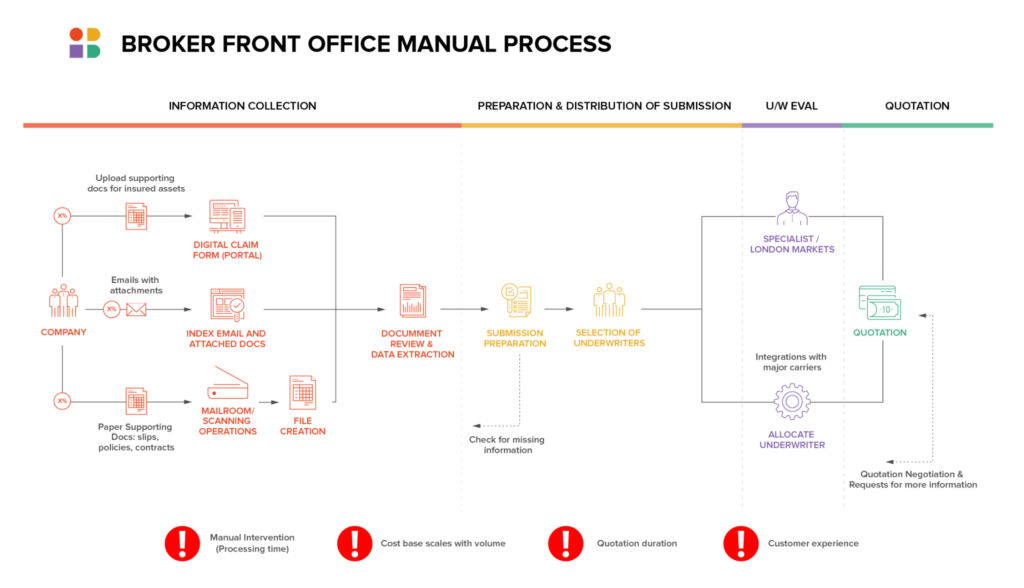 Deep Learning: The Solution to Front-end Document Understanding and Automation
Instabases leverages a unique approach capable of ingesting all variable data from emails and other sources, classifying it, and extracting and processing relevant information through the use of in-house, market, or client-based deep learning models.
The resulting automation seamlessly connects front-end client data with back-end carrier submission reports.
Additionally, Instabase uses extensible automation building blocks to easily create workflows for leveraging the resulting structured data, fitting it seamlessly into each carrier's own systems.
The steps involved in the Instabase deep-learning automation process include:
Use of deep learning to understand the purpose of a client email (e.g., claim, new business, or existing client)
Extraction of the relevant data from the emails and attachments
Matching broker report submissions to each carrier's system to ensure information is delivered in a useful manner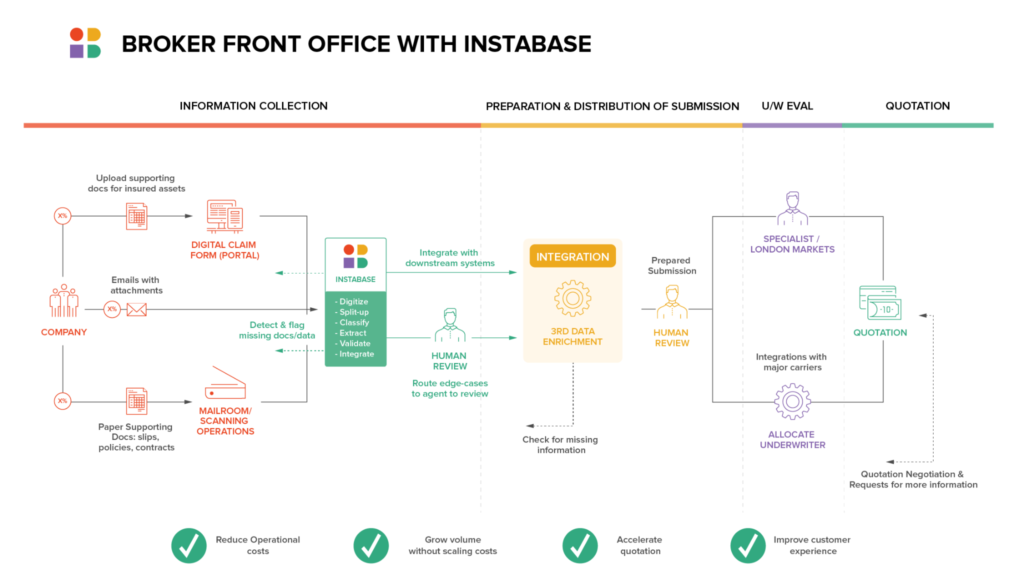 The Instabase Advantage
There are a number of critical benefits for insurance brokers that leverage Instabase to more efficiently tie together front-end and back-office systems. Making the transition to an automated front office can make the difference between a broker achieving profit or not in the competitive insurance sector.
The following are central advantages gained with the Instabase automation solution:
Resolution of a problem that has no other alternative for brokers
More accurate and efficient extraction of client data from emails
Cost reductions through elimination of up to 80 percent of manual processes
Better relationships with clients due to more time to focus on client engagement
Better relationships with carriers due to improved accuracy and efficiency in submission reports
If you are an insurance broker, you likely know all about the challenges of running your front-end operations manually. Let Instabase help. Schedule a demo to see how to automate your front-end with Instabase.
Automate fron-end broker processes.
Transform unstructured client data into a format that matches carrier submission report requirements automatically.