Insurance Underwriting Platform
In an industry operating on narrow margins, insurance companies today are trying to streamline processes, reduce costs, improve operational efficiencies, and level up the customer experience—all at the same time.
Automation is one of the foundational elements that can move the needle toward all these goals. So, companies are adopting platforms to enable automation of key processes such as underwriting.
What Is Insurance Underwriting?
Insurance underwriting is the process of evaluating the risks involved in insuring a person, business, or asset with the purpose of determining pricing for an insurance product
Insurance underwriting is a complex task that is part science and part art. Accurately assessing risk and applying that assessment to pricing models is a skill that can either make or break an insurance company's success and profitability.
To facilitate this process, insurance companies have adopted various types of insurance underwriting platforms.
What Is an Insurance Underwriting Platform?
Insurers use a variety of tools to help with task automation. Insurance underwriting platforms typically sit within a policy management system such as Guidewire or Majesco Policy as part of an underwriting workbench, a toolkit for underwriters. Combined with pricing models, these tools help insurers automate at least some of the underwriting process.
Can Insurance Underwriting Really Be Automated?
The underwriting of more complex risks requires human skills and analytic capabilities, so it cannot be fully automated. That said, there are certain parts of the underwriting process that can benefit mightily from automation, such as the process of document ingestion and review.
To understand the risks inherent in writing a particular policy, underwriters require lots of information. That information can be found in vast volumes of documents, many of which are not standardized. These highly variable document types are typically understood through manual document review.
Here's the challenge. Manual document review is time-consuming and labor-intensive. When underwriters are forced to spend their time on reviewing incoming documents, extracting the necessary information from them, and manually entering it into a pricing model, they lose the time they need to spend in actual risk analysis, becoming data entry pros rather than underwriting specialists. That's not good for them or for the insurance company.
Document Understanding and Insurance Underwriting Platforms
For insurance companies looking to reduce costs, increase capacity, and provide excellent customer experiences, automated document understanding paves the way. Integrated with insurance underwriting platforms, intelligent document understanding solutions automatically ingest, split up, classify, and extract relevant data from any document, whether structured or unstructured in nature.
Intelligent document understanding solutions enable greater scalability, giving insurers the added capacity they need to grow their businesses. The solutions also speed underwriting processes by reducing or eliminating the need for manual review, which contributes to overall improvements in customer experience.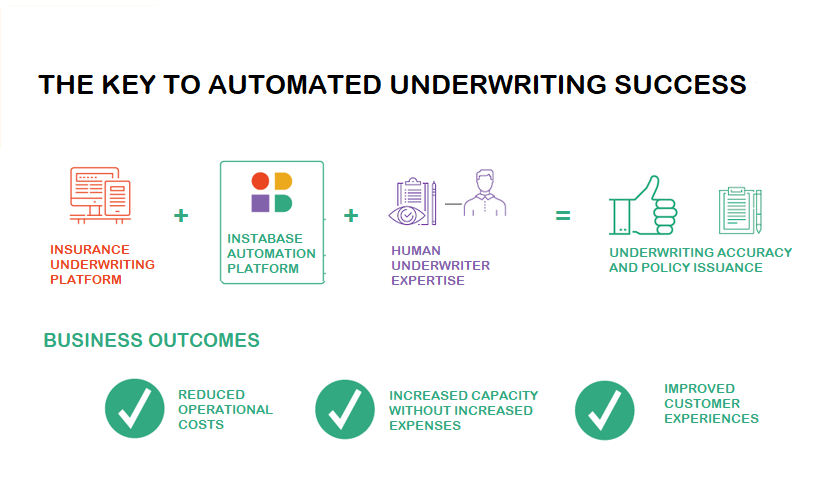 Instabase Integrates Seamlessly with Insurance Underwriting Platforms
The Instabase Platform integrates seamlessly with your existing policy management system to accurately extract data from disparate document types and standardize it for analysis.
For example, Instabase is proud to be a Guidewire Vanguard. Customers can easily integrate Instabase into policy management systems like Guidewire, enabling intelligent document automation at scale with a simple API.
To learn more about intelligent document understanding and how it works with insurance underwriting platforms, check out our video below:
To learn more about the Instabase solution for insurance, please check out our insurance solution page.