Content
Intelligent Automation Simplifies Processes
Automation Frees Up Adjusters
Instabase Saves Time and Money
The last thing a policyholder filing a disability insurance claim wants or needs to do is to wait for their funds. However, because of time-consuming manual tasks in typical disability claims processing, many claimants find themselves waiting for a long time for claim settlement.
Fortunately, with the advent of intelligent automation, these manual processes can now be streamlined. Leveraging the intelligent automation capabilities of the Instabase platform can significantly ease the filing and processing of disability insurance claims, lightening workloads and shortening waiting times for everyone involved.
Here are the top three ways Instabase can benefit insurers and increase the efficiency of their claims departments.
Intelligent Automation Simplifies Processes
For insurers that haven't engaged Instabase's intelligent document automation technology, the current processing structure is complex and painstaking. Once the insurance company receives the claim from a customer, all documentation must be scanned in. Only then can it be picked up by an operator, who will manually review and process the documents.
Because of all the manual reading and data-point extraction involved, this typically takes two to three days, Instabase Insurance Industry Leader Bastiaan de Goei said. "The documents need to be analyzed, and then an analyst may seek more information" from the submitter. Then comes the validation stage,  during which the insurance firm must examine potential conflicts and make certain there are no outstanding issues with the claim that could preclude its eligibility.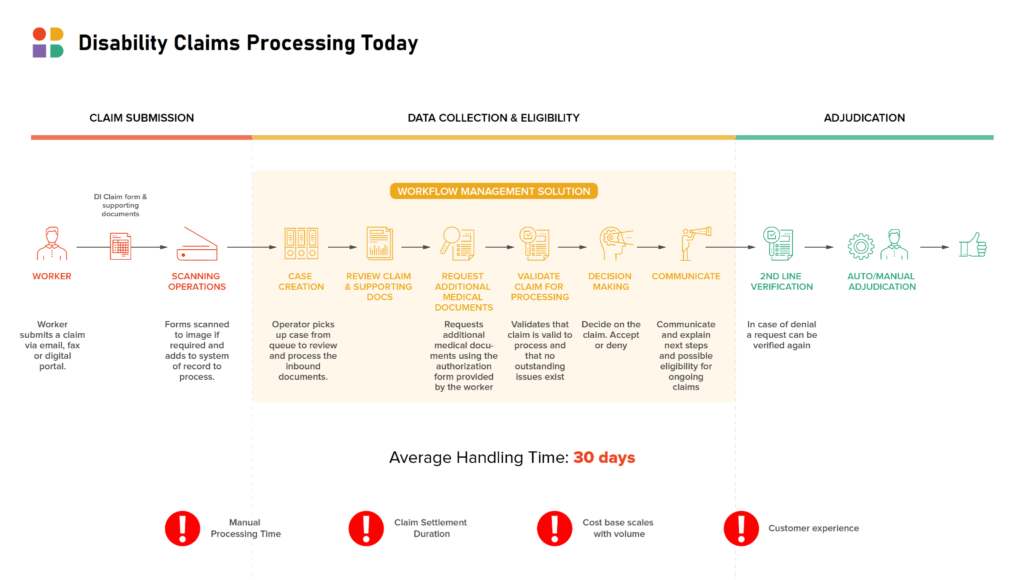 Using Instabase "makes this process a lot simpler," de Goei said. First, Instabase automatically takes in, categorizes, and routes the claimant's submitted notice of loss to the correct team within the company. Instabase's platform then extracts relevant values from the often complicated and voluminous medical and financial documentation sent in by the claimant "so it's all laid out comprehensively for the claims adjuster," de Goei said.
Using Instabase for disability-insurance claims can reduce the number of time- and effort-consuming manual touchpoints by up to 83%.
Automation Frees Up Adjusters
Insurers that aren't automating simply do not have the employee bandwidth to allow for personal interaction between claims adjusters and customers. "Insurers would like to have more capacity for their claims adjusters to interact empathetically with their customers, rather than processing documents," de Goei said. But because most claims adjusters are "drowned in documents," the status quo without Instabase doesn't allow for this — and that's proving problematic.
Empathy is becoming essential to business success. In a recent Salesforce survey, one of respondents' top desired (even expected) traits in companies with which they did business was empathy. COVID-19 "has upped the ante with customers now also expecting a demonstration of empathy and understanding," writes Vala Afshar in a blog post on the survey's results. "People facing unexpected challenges and hard times need a seamless digital experience that adapts to their changing needs."
By streamlining the more routine tasks, Instabase allows adjusters time to build and display customer empathy, leading to a better customer experience and, ultimately, greater customer retention.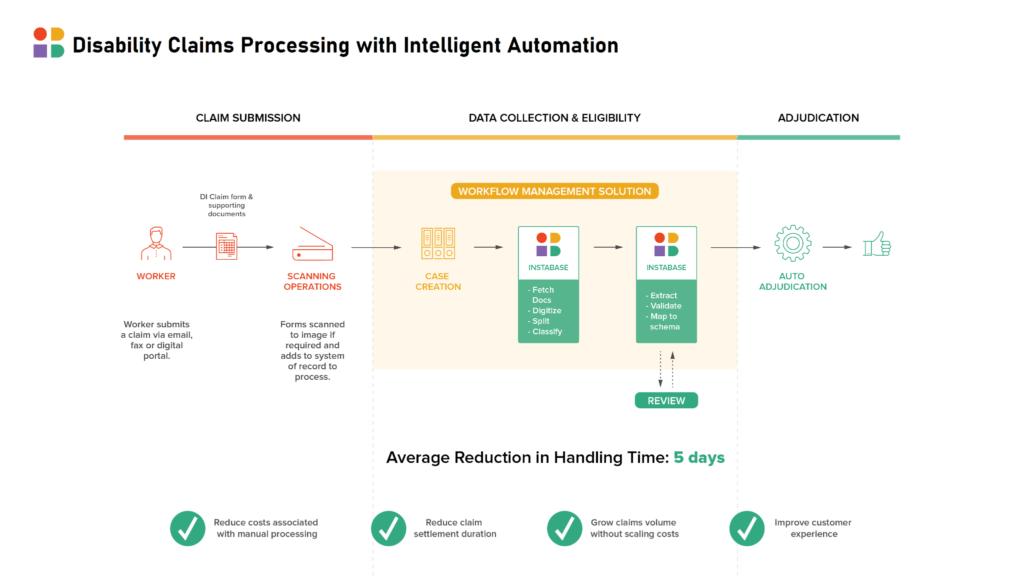 Instabase Saves Time and Money
The ability of any implemented technology to save its users cash outlay is a high priority, and Instabase delivers on this score for disability insurance.
"Settling a disability claim can easily take up to 30 days, and it can frequently be even longer than that," de Goei said. That's where Instabase's ability to slash claims document handling time by an average of five days makes a notable difference. This wait reduction means claimants get their funds faster, adjusters and claims processors experience increased productivity, and the business reaps the rewards of optimized processes and greater employee and claimant satisfaction. Instabase enables greater numbers of well-compensated insurance company team members to do less manual work and more higher-level, revenue-generating work.
Find out how Instabase can save your business time and money. Request a free demo today.