People
Instabase Spotlight: Building Trust with Jack Levy, Chief Security Officer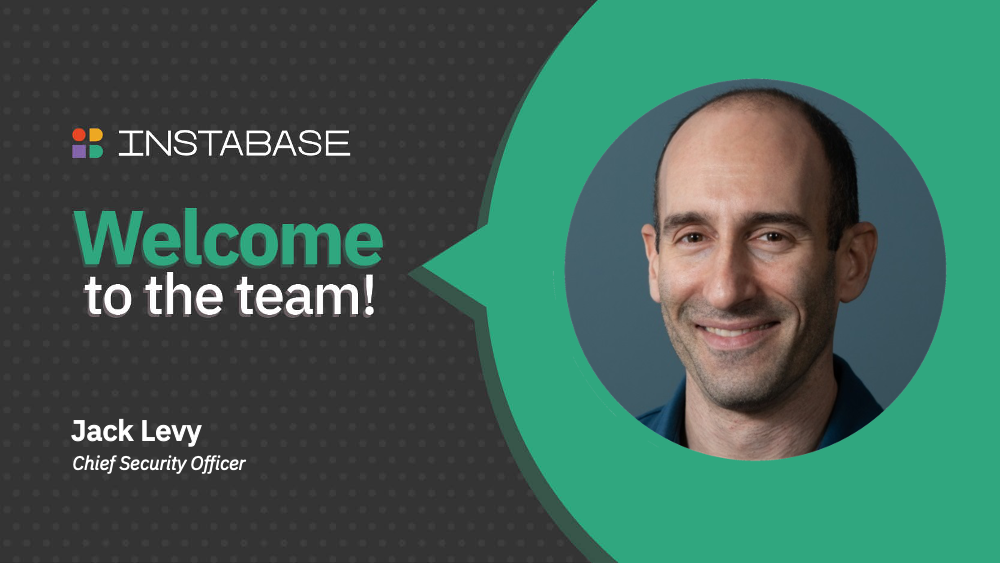 We're delighted to welcome Jack Levy, a dynamic, resolute leader with over 20 years of industry experience. At Instabase, Jack leads the Security, Compliance, Privacy, and IT teams as Chief Security Officer. In this spotlight, we'll highlight Jack's background, journey to Instabase, and his vision for the role. 
About Jack: 
Jack has provided executive leadership for engineering teams in financial services and healthcare for over 20 years. Jack joins Instabase from Butterfly Network, where he led Software and Security through the company's journey from pre-revenue to a public company. Before that, he served as the Head of Cybersecurity at Bridgewater Associates, Managing Director at Goldman Sachs, and Head of R&D at Dow Jones. Jack holds a BSE in Computer Engineering from the University of Michigan. 
Why did you join Instabase?
Most of my career has been spent solving engineering problems and building software teams. As everything started moving to the cloud, security became an increasingly important and persistent theme in my work. And as I've gone deeper into the field, I continually discover there is more to learn and real potential for modernization. This moment at Instabase is a perfect opportunity to build better approaches to security and compliance from the ground up.
For this new generation of SaaS businesses that operate at the "Intelligence" layer, security and compliance are becoming increasingly technical – in many cases requiring deep involvement from senior engineers. To succeed at scale, security and compliance need to be woven into the fabric of our engineering teams. In meeting with our CEO, Anant Bhardwaj, it was clear he understands this at a fundamental level. At the same time, he trusts our team to set the approach. The opportunity to build out these functions for the long term with the full support of our CEO was uniquely compelling – especially against the backdrop of a truly impressive product and high-growth commercial business.
Please tell us about your main responsibilities and what your position will entail. 
As the CSO, I am responsible for Instabase's overall security posture and risk management. On a daily basis, this includes leading the Trust Team, an independent business function that fully integrates Compliance, Privacy, Security, and IT. 
To better explain why this approach is essential to our success, let's look at the unique role each of these functions plays in an organization:
Security is the practice of risk management – the goal is not to eliminate risk but to understand and bring it in line with rewards

Compliance & Privacy deliver on our obligations to regulators, customers, employees, and data subjects

IT increases company productivity and scalability while enabling security, compliance, and privacy
The Trust Team aligns each area of expertise around a shared roadmap, goals, and metrics. By organizing these functions in an equitable manner, we incentivize collaboration and support while preventing fiefdoms. And the best part is these simplifications enable us to move faster and achieve more with less.
The other critical building block is culture. Each person at Instabase is responsible for the security of their decisions. They are also accountable for their security outcomes. Individuals, managers, and executives share and continually reinforce these values. Using the Trust Team as a center for accountability simply wouldn't scale – this is the only way Instabase can continue to grow while steadily strengthening security in proportion.
How would you describe your leadership style?
People produce the best outcomes when given real decision-making authority – anything less limits their potential. Thus the goal is always to push decision-making power into the hands of each team member. For smaller, more reversible decisions, this approach enables us to "fail fast", rapidly learning and iterating. For larger, more irreversible decisions, we rely more heavily upon triangulation and peer review.
Follow this approach to its natural conclusion, and as a manager, you aspire to become completely redundant: The team can perform all functions effectively and continuously without your active support. You know you've succeeded when you realize your involvement slows the team down! And if you can get to that point, it's only good for everyone involved – paving opportunities for the next level of leaders to step forward and freeing you up for the next challenge.
What makes you excited about the future of Instabase?
Above all, we have a fantastic team here at Instabase, and I couldn't be more excited about the journey ahead. The pace at which we evolve our deep learning platform and bring new capabilities to market is exhilarating. We are fortunate to have amazing customers pulling us towards the future rather than the reverse, producing a stream of interesting and impactful challenges for engineers. The coming years will realize some incredible AI-based innovations, and I am thrilled to be part of it.